Tasty Bakes by Becky was started from the desire to provide delicious desserts for all of life's special occasions including weddings, birthdays, showers or any day that ends in "y". Becky is excited to create a tasty bake just for you for your celebration. She lives with her husband, 2 kids and vegetable-loving pup, Molly.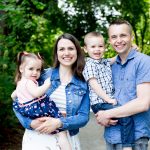 Becky grew up in the beautiful Pacific Northwest and currently lives in Lynnwood. Her love of baking started at a very young age helping her grandma make pies for holidays and treats for her family's birthday parties. She had a strong desire to learn everything she could from the bakers in her life, and was often elbows deep in flour or powdered sugar with food coloring on her fingertips.
Becky became known for bringing dessert to every gathering. Guests would specifically ask if she was bringing dessert before she arrived. Becky enjoys the process of decorating a cake or cupcake to make it look extraordinary. Flavor and texture are necessities for every cake. Her favorite part about baking is creating something delicious out of simple, real ingredients. Becky looks forward to working with you to create your special dessert!
To see our latest bakes, follow us on Instagram @bakerwithahammer.
To stay up to date with us, like us on Facebook at Tasty Bakes by Becky.